CentralStar's Laboratories provide sample analyses on milk, blood, fecal, and tissue samples for a variety of production, disease and health-related traits. milk-based cow pregnancy test kit dairy cow milk pregnancy test Milk Pregnancy testing, cow pregnancy testing mil0k
More than 5.3 million samples are processed annually using state-of-the-art equipment and techniques including infrared spectroscopy, flow cytometry, ELISA, PCR, and more. dairy cow milk pregnancy test Milk Pregnancy testing, cow pregnancy testing milk
Results
Component, SCC, and MUN results are reported by email or mail. All other diagnostic testing results are available online, via email, and text messaging.
Submitting Samples
Milk samples can be submitted through routine DHI testing or sent directly to the Laboratories. All other sample types should be sent directly to the laboratory closest to you. A completed Sample Submission Form should accompany all samples. For convenience, shippers and sampling supplies can be purchased here. Milk Pregnancy testing, cow pregnancy testing milk
When submitting blood samples use red-top tubes for serum and purple-top tubes for whole blood.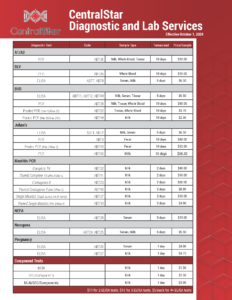 View these guidelines for answers to general questions on sampling and shipping.
CentralStar Michigan Lab
1163 Comet Lane – Suite 100, Grand Ledge, MI 48837
517.333.8381 – [email protected]
CentralStar Wisconsin Lab Complex
200 East Kelso Road, Kaukauna, WI  54130
920.733.6598 – [email protected]
SCC, Components, MUN
Sample Type
Sample Handling
Keep out of direct sunlight or heat

Invert one hour after taking sample to mix preservative

Ship within 24-48 hours of collection
Results
SCC & Components within 24 hours of sample processing, MUN 3 days.

Emailed in CSV or Excel format, and mailed
Price
SCC/Components $1.50/sample

MUN $1.50/sample

MUN/SCC/Components $3/sample

Submission Fee $10/order

Testing billed upon sample receipt
Submit Samples
Talk to your DHI Specialist