Research and development are at the core of CentralStar's vision. We strive to continually expand our product and service portfolio through collaboration with industry allies. We promote innovation and discovery to equip producers with the tools needed to drive the dairy industry forward.
We are actively engaged in a range of research projects including modern molecular biology, next-generation technologies and data analytics.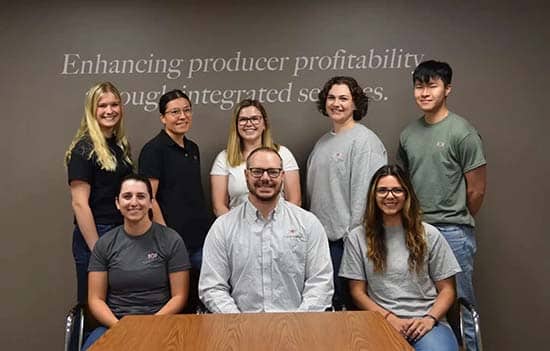 CentralStar Research team: Front: Kait Houghton, Casey Droscha, Chaelynne Lohr. Back: Irene Nielsen, Corey Luna, Laura Pavliscak, Sophie VanderWeele, Evan Ma.
Delivering informative and cost-effective pathogen detection, novel quantitative assays, and herd-specific diagnostic programs.
Involved in multiple genomic discovery projects for disease resistance, fertility, identifying genetic association within long-lived cows and more.
Data analytics
Tailored herd-wide diagnostic and information analysis.
Investigating genetic and physiological factors that impact reproductive success including pregnancy detection, sire fertility, and improving reproduction rates.
DHI
Enhanced data collection and analysis of mid-infrared spectral data.
Delivering informative, accurate, timely, and cost-effective test results is paramount for effective management of today's dairy operations. At CentralStar, we are continually developing and validating assays so that producers are receiving the best information for their buck. We diligently strive to place our work at the intersection of novel biological discoveries and next generation technologies in order to deliver cutting edge tools to producers without prohibitive cost.
Custom Mastitis Testing
We continually expand our library of validated assays targeting both common and less common pathogens that are known to cause mastitis. We often work directly with herds to identify and contain a problematic pathogen through bulk tank microbial profiling and custom diagnostic approaches.
Bovine Leukemia Virus
CentralStar's flagship BLV SSI qPCR Assay has become the most used Leukosis PCR test in the U.S. The SS1 Assay compares viral DNA to host DNA in blood enabling identification of advanced disease, commonly referred to as super-shedders. Animals with the highest amount of BLV should be removed to reduce new infection rates over time. We are currently enrolled in a seven-herd, 3,000 cow field trial which has resulted in herds reducing their BLV prevalence by 60 percent in two and a half years.
Custom Single-plex SNP Assays
Is there a single nucleotide polymorphism (SNP) that you are interested in within your herd? Genetics that encode milk proteins like A2 β-casein or K-casein can be determined from tissue, blood, or your DHI milk sample!
Johne's Detection and Quantification
We have developed an assay capable of determining relative amounts of the causative microorganism of Johne's disease (Mycobacterium avium paratrabucluous – MAP) from fecal samples. This assay helps producers screen and remove shedding cattle before it's too late.
Reproductive efficiency is one of the most important aspects of operating a successful dairy operation. In addition to offering superior semen quality through Select Sires, CentralStar is actively investigating genetic and physiological factors that impact reproductive success on both the male and female side.
In collaboration with IDEXX, we offer a blood and milk-based Pregnancy-Associated Glycan (PAG) detection ELISA for accurate and timely results.
Biomarker discovery for detection of pregnancy loss within the first trimester.
Genomic selection has revolutionized the productivity of the modern dairy cow. Now, more than ever, genomic research will be pivotal for the future sustainability of the dairy industry. CentralStar is actively involved in multiple genomic discovery projects that interrogate the bovine genome for genetic interactions that confer a genetic advantage of the following traits.
Disease resistance, immunogenetic diversity
Fertility, identifying heritable genetic defects that impact conception
Productive Life, identifying genetic association within long-lived cows
The use of automation and machine learning are clearly affixed to the future of successful enterprises. At CentralStar, we invest in the future by engineering automated solutions for preparing milk vials for testing. We are upgrading our diagnostic laboratories with automated equipment so that our technicians are able to spend more time performing data analysis of your herd. Future endeavors include the design and engineering of liquid handling devices for real-time sampling of DHI vials for supplemental testing.
CentralStar collaborates with strategic partners within the academic, dairy, livestock animal diagnostic, and life sciences sectors. This collaboration fosters effective innovation and implementation of novel discoveries into tangible products and services to facilitate advancement of the dairy and beef industries.