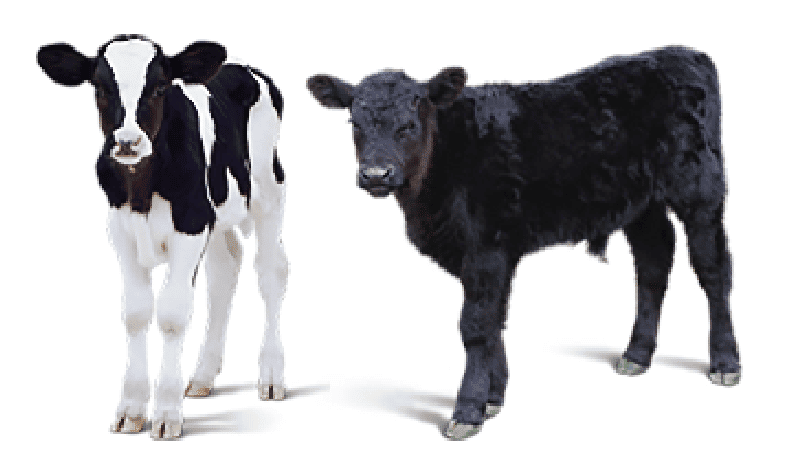 Pregnancy Testing
Conduct on milk (fresh, frozen or preserved) or serum samples from cattle, sheep or goats.
Confirm pregnancy through pregnancy specific proteins (PAG). PAGs are released by the placenta during pregnancy and are specific to pregnancy unlike some other chemical indicators, such as progesterone.
Results comparable to traditional methods.
98% Accurate (98.8% Sensitivity, 97.4% specificity); comparable to palpation and ultrasound.
Test Results
Available within 24 hours of receipt of sample.
Quickly access results online through a personalized database system.
Results reported as pregnant (>0.25), open (<0.1) and recheck (0.1-0.25) based on the levels of PAGs present. "Recheck" results should be verified by herd veterinarian or retested.
When To Use
Test as early as 28 days post-breeding through dry-off.
Must be at least 60 days post-calving.
Price
Milk $4.75/sample
Serum $4.00/sample
Multiple test discount! $11 for two ELISAs on same sample; $15.00 for 3 ELISAs
Testing billed upon sample receipt
$10 sample submission fee per order
Submit Samples
Milk samples can be submitted through routine DHI testing or sent directly to the Laboratories.
Samples (milk and blood) can be sent directly to the laboratory closest to you.
Include sample submission form when submitting samples
When submitting blood samples use red-top tubes for serum and purple-top tubes for whole blood.
Consult guidelines for frequently asked questions regarding sampling and shipping.
Milk-Pregnancy Testing saves time and labor
Routine pregnancy checks are necessary, but a pain due to time and labor. Learn how milk-pregnancy testing reduces and removes time and labor pains, while keeping your herd's reproductive performance on track.
CentralStar Laboratories
CentralStar's Laboratories provide sample analyses on milk, blood, fecal, and tissue samples for a variety of production, disease and health-related traits.
More than 5.3 million samples are processed annually using state-of-the-art equipment and techniques including infrared spectroscopy, flow cytometry, ELISA, PCR, and more.
Diagnostic tests are intended to identify diseases in the cow for their health, and do not determine the "safety" of milk. Testing prices listed effective 10/1/2020. 
How To Collect a Blood Sample for Cattle Pregnancy Testing
Supplies Needed:
Vacutainer® Vial
Double-sided needle
Needle holder
Be sure to check which type of vial is required for your desired test type.
Red-top vials: Pregnancy, Johne's, Leukosis, BVD and Neospora.
Purple-top vials: A1/A2 and BLV SSI PCR.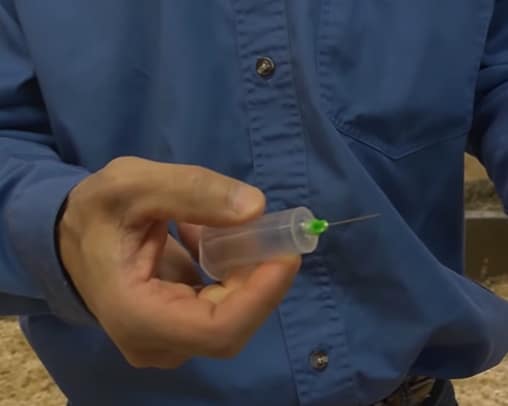 Step 1:
Screw needle into needle holder
Insert the Vacutainer vial into the holder
DO NOT puncture the vial stopper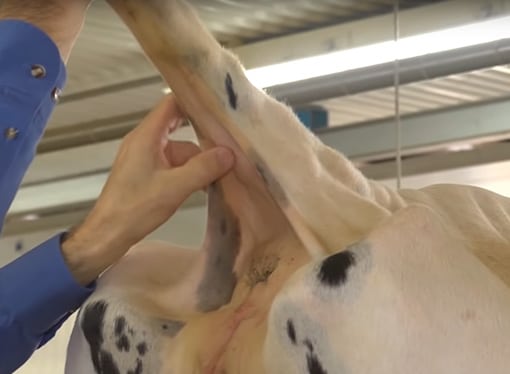 Step 2:
Lift the tail straight up and clean area
Find the midline groove 4 to 6 inches from the base of the tail
Insert the needle about ¼ inch into the groove, perpendicular to the underside of the tail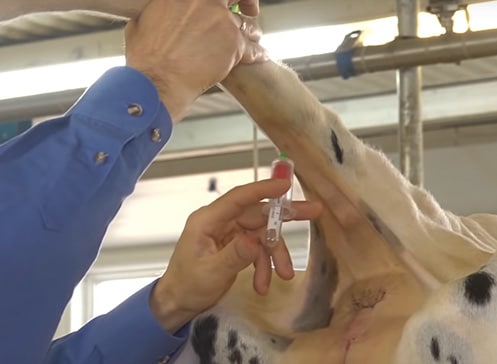 Step 3:
Engage the vacuum by pressing the vial up puncturing the stopper
If blood does not flow, carefully redirect the needle
DO NOT remove the needle from the tail
Step 4:
Once blood begins to flow maintain needle position
Collect a minimum of 4cc of blood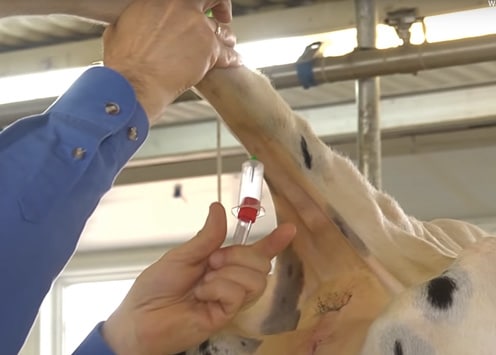 Step 5:
Disengage the vial from the holder BEFORE removing needle from the tail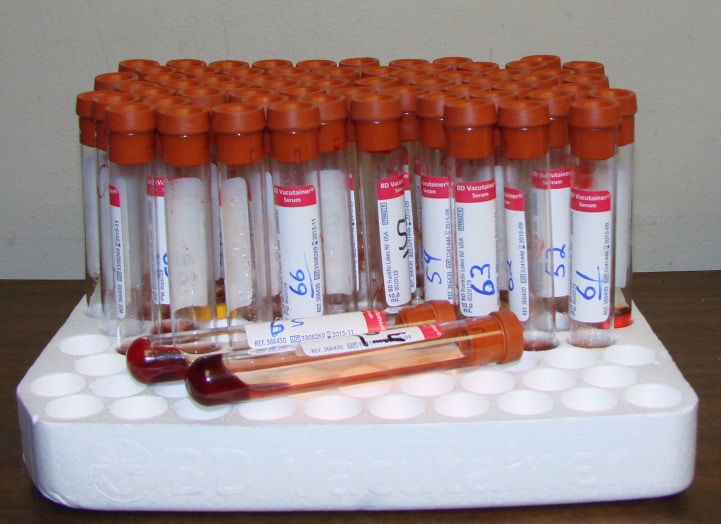 Step 6:
Clearly label vials with animal identification
Fill out a sample submission form
Step 7:
Keep vials at room temperature to allow clotting (1 to 2 hours)
Once clotted, keep samples refrigerated until submitted to the lab