Electronic & Printed Report Options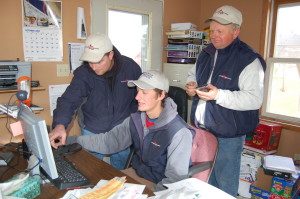 DHI Specialists provide on-farm test day reports. There are also a variety of printed and electronic report options available to assist with herd management.
Electronic Reports
If you don't want to wait on the mail, you can access reports via the web! When you sign up for WebReports, you will receive an email notification when your herd processes, so you'll know your reports are waiting for you! An option to automatically notify another email address (your herd manager, veterinarian, consultant, etc.) is also available. The cost of web reports varies based on number of cows and the charge will be added to your regular charges for each test period.
Along with WebReports, CentralStar's SCC Hot Sheet is an email report delivered within 24 hours of sample processing. The report quickly provides SCC scores for all cows and ranks the top 20 cows affecting the bulk tank SCC level.
Section 1: Lists the top 20 cows that affect your total bulk tank SCC level, based on both the individual cow's milk production and her somatic cell level.
Section 2: Lists milking cows in index number order, along with their milk weight, percentages of fat, protein, SCC, actual SCC, days in milk and lactation number.

Printed Reports
DHI reports are printed and mailed monthly to producers. Mailed reports include over 70 pre-designed lists and summaries, as well as custom designed reports to choose from. Some of the most popular mailed reports are listed below. To view more report options visit the DRMS website. If standard reports do not meet your needs, custom reports can be designed.